My Comment:  What in the world has happened to our country?  It's turned upside down and inside out.  Sounds a little like Van Jones 'Top down, bottom up.'  HELLO!  These are our leaders?  How embarrassing for America.  This evil that has been unleashed on our Capitol, is very dark.  They arrest our Veterans for protesting at the Veterans Memorial, but allow this, and our leaders feel they have to break laws to show support to  those who break our laws to enter the country.  God help us.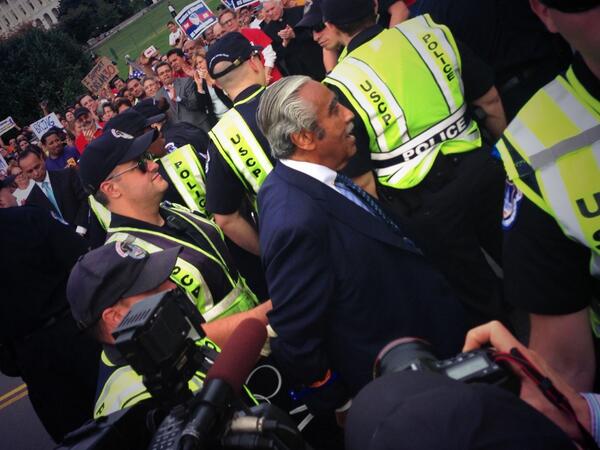 Eight members of Congress were arrested during a Tuesday immigration rally on Washington, D.C.'s National Mall.
Several House Democrats sat in the middle of Independence Avenue and blocked rush hour traffic, according to the Star Tribune.
The representatives, Rep. Keith Ellison (D-MN), Rep. John Lewis (D-GA), Rep. Raul Grijalva (D-AZ), Rep. Joseph Crowley (D-NY), Rep. Al Green (D-TX), Rep. Luis Gutierrez (D-IL), Rep. Jan Schawkowsky (D-IL) and Rep. Charlie Rangel (D-NY), were then arrested by U.S. Capitol Police, spokeswoman Kimberly Schneider confirmed to TheBlaze.
The congressmen were charged with "crowding, obstructing, and incommoding" under D.C. Code 22-1307 and will be processed by the U.S. Capitol Police at 67 K Street, SW.
Tuesday's rally was organized by a group called Camino Americano and was aimed at urging Congress to pass immigration reform allowing individuals who are illegally in the U.S. to apply for citizenship. The demonstration took place on the "legally closed" National Mall, but was allowed by the National Parks Service because it was considered a rally guarded by the First Amendment.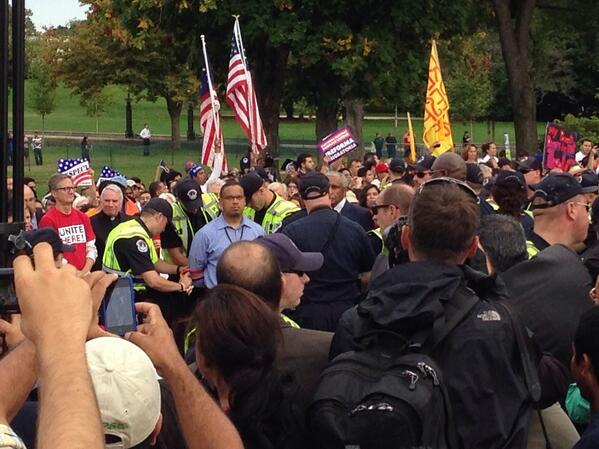 Read More & watch video:  Eight Members of Congress Arrested During D.C. Immigration Rally | Video | TheBlaze.com
Hat tip to JD
Related articles
---
---
Categories: new world order, news